Well it took a week to get here via U.S. parcel post for which I paid $20.00 a là classic eBay transaction with the over-priced shipping.
I put it straight to work . . . .
It's the SuperQuartz model no E75362, blue dial. I have to admit to not falling immediately in love with it, in spite of it's name and general reverence among our community.
Pros:
Accurate, simple layout, titanium, medium size (40mm), clear golden LCD displays, bi-directional bezel, sapphire dial with AR coating both sides, excellent lume and, of course,
the name
.
Cons:
Horrible numeral font, fiddly function selection (being a lefty, I have to remove the watch to do anything), low-volume tinny beep, no backlight, no chrono split-time, not that many functions. Can't even set the minutes and seconds different to basic digital time other than by fiddling around with the reset function and thereby messing up the 2nd timezone - duh.
Unfortunately, there's some stiff competition from another member of my collection . . .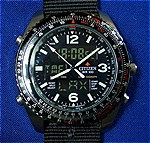 The Wingman has many more timezones and two alarms, not just one; it's hands can be set completely independently of the digital (LCD) time. It has a really loud alarm and a good backlight.
Best regards,
xpatUSA